First, thank you, Beth, for adding this room....I know alot of us here have many talents, cooking, interior design, and Arts and Crafts. Hope this proves to be a popular place to be.
Next, thanks to Barbzee for suggesting the room.....Told her about my favorite afghan to make for babies and adults alike at the GTG last weekend...told her I'd send it to her....lol....well, Zee, has a way of getting me off my mental "butt" and write the pattern down to put here....the pattern is quick and easy.....hope you all enjoy it....Here goes....
Mile-A-Minute Crochet Afghan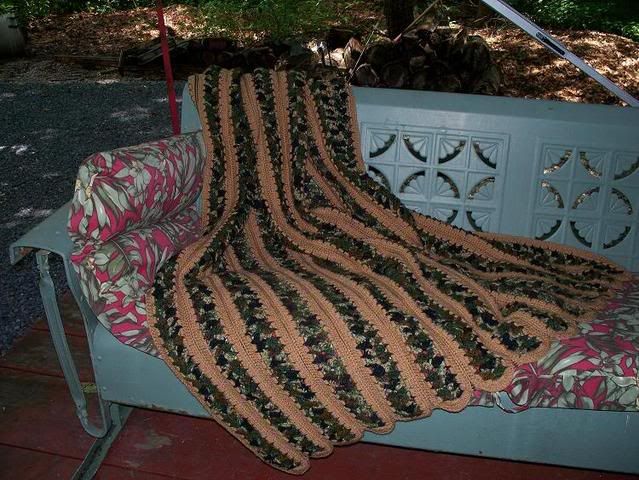 Materials needed: 1-G or H size crochet hook, and yarn needed to finish the size and thickness you desire.....colors are up to you, but need 2....I use varagated for the center part of the strip and solid for the outside of the strip. ( worst weight/baby yarn or 4 ply)
To start: Chain 7 the slip single crochet (sc)
Row 1: chain (ch) 3, double crochet (dc) X 2, sc, dc X 3, ch 3, turn.
Row 2: dc X 3 in previous row sc, sc, dc X 3 in same sc, ch 3, turn.
Row 3 etc. continue on using row 2 until you have desired length of strip. (not counting rows 1&2....Baby afghan = 50....Adult = 75 to 100 depending on the length you want...) tie off with slip sc....
Outside edge: starting in any space on side, slip stitch to attach, ch 3, dc X 2 in same space, go to next space, repeat until you reach end, then dc X 15 in end sc, then cont. up other side, dc in other end X 15, cont. to start , sl sc, tie off.
baby afghan usually takes 9-10 strips and the adult takes 17 -20 strips for a throw or a twin bed size afghan.
sew or slip crochet strips together....starting with last 3 dc in ends, with right sides facing.....keeping the strips even and matched....ending with the 1st 3 dc on other end....
Wa-La, you have a Mile-A-Minute Afghan!!
Close ups to of afghan.
If you have any questions, PM me.....I hope you enjoy this pattern, I know I do.....great project for rainy days when Rving...
Lori